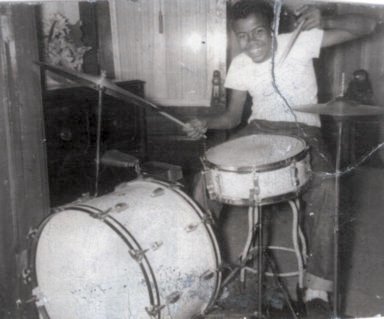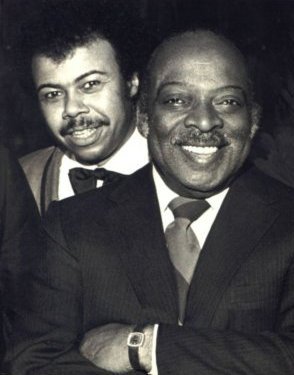 Music Legends: Harold Jones smiles for the camera with Count Basie.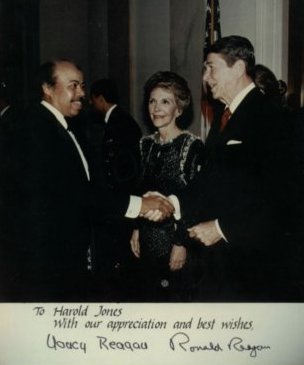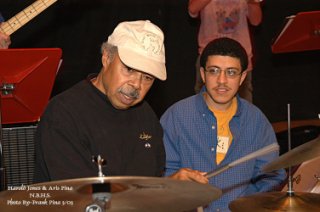 Harold Jones demonstrates drumming techniques to student, Aris Pina, at workshop.

Harold Jones was born February 27, 1940 in Richmond, Indiana, where
he lived until 1958.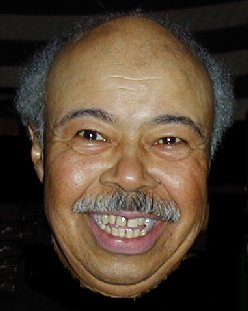 In the 1950's

Jones gives credit to his first teacher Jack Kurkowski, a vaudeville performer for teaching him to read music before he even owned a drum. He began drumming at 14 when he enrolled at summer music camp in his native Richmond, Ind.

In Richmond High School he played in the orchestra, dance band, pep band, marching band, and concert band. In 1958, with the help of his teacher, Robert Carr, he won a scholarship to the American Conservatory of Music, Chicago, under the direction of James Dutton. During his studies he began playing night clubs, he was the drummer on Eddie Harris' "Exodus to Jazz", the first jazz LP to sell 1 million records.

In the 1960's

Jones also worked with saxophonist, Paul Winter when the band toured 23 Latin countries, and later became the first jazz band to play the White House. Jones was twenty-one years old at that time. In 1967, he was called to New York to fill in for Count Basie's drummer — "it was supposed to be two weeks, and it turned into five years." The Basie years, according to him, "were the greatest of my life," As the youngest person in the band, he learned a lot about discipline. With Basie, Jones performed for royalty and fans around the world. In 1972, he won the Down Beat Magazine International Jazz Critics' Poll for the best new artist.

In the 1970's

Harold continued to play with Basie off and on for an additional five years, but left the tour when Ella Fitzgerald invited him to be one of her musicians. He also worked sporadically with Nancy Wilson, Carmen McRae, Tony Bennett and Sammy Davis Jr.

In the 1980's

In 1980, he joined Sarah Vaughan and for the next 10 years toured the world - Hong Kong, Australia, England and Brazil. With Sarah, he played the White House "five times" because she was Nancy Reagan's favorite singer.

In the 1990's

In 1990, Harold joined Natalie Cole for the Unforgettable Tour, playing to sold-out houses.

Current

In between gigs, he would play at jazz festivals around the country - Indianapolis, Boston, Long Beach, Monterey, to name a few.
In 2001, he was on staff for the Henry Mancini Institute at the University of California, Los Angeles. He has also played on Quincy Jones' new CD - "Count Basie and Beyond", and Robbie Williams' "Swing When You're Wining", which includes "Beyond the Sea" from the soundtrack of "Finding Nemo".
Jones leads drumming workshops at colleges and universities throughout the country.—"I teach how to interpret music on drums" - and plays for corporate parties or community events with his 17 piece band. "I want to bring the Basie swing style back to the music world."
Jones uses Count Basie swing style, teaching at various universities with 17 piece big bands formed by local students, including the University of Miami, Berkeley School of Music, University of Ohio, Capital University in Ohio and Birchcreek Music Camp. Jones revels in his present life, the music he plays and the people he meets.
Currently Harold Jones performs with Tony Bennett and Lady Gaga on the Cheek to Cheek Tour.

Participant on Grammy Albums

Jones has been a participant on five Grammy Wining Albums.
They are as follows:
1981 Warm Breeze, Count Basie

1982 Gershwin Live, Sarah Vaughan

1990 Live At The Apollo, B. B. King

1991 Unforgettable With Love, Natalie Cole

1993 Take a Look, Natalie Cole

2006 Duets: An American Classic, Tony Bennett

2008 Still Unforgettable, Natalie Cole

2011 Duets II, Tony Bennett

Symphonies and Conductors

Symphonies and conductors Jones has played with:
New Jersey Symphony, Los Angeles Philharmonic, Cincinnati Symphony, Atlanta Symphony, San Francisco Symphony, Richmond, VA. Symphony, London Philharmonic, Michael Tilson Thomas, Sir Thomas Beacham

Back to the Top

Various Artists

Various artists Jones has performed or recorded with:
Tony Bennett, Count Basie, Oscar Peterson, Duke Ellington, Marlena Shaw, Sarah Vaughan, Bing Cosby, Ella Fitzgerald, Bill Cosby, Nancy Wilson, Billy Eckstine, Carmen McRae, Mills Brothers, Sammy Davis Jr., Harry James Orchestra, Benny Carter, Jimmy Smith, Johnny Griffin, Ira Sullivan, Donald Byrd, Herbie Hancock, James Moody, Benny Goodman, Joe Williams, Roger Williams, Robbie Williams, B. B. King, John Lee Hooker, Roosevelt Sykes, Ray Charles, Kay Starr, and Quincy Jones